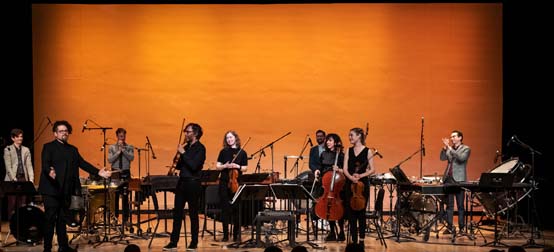 photo by Rob Davidson for Miller Theatre

David T. Little (2nd from left) with Third Coast Percussion & American Contemporary Music Ensemble

.......................................................................................................................................................................................
Billed as a Composer Portrait of David T. Little ("Dog Days," "JFK"), a shining, rising star among relatively young creators, the evening at the Miller Theatre, at Columbia University on April 18, featured two unusual and recent chamber works, the intense and powerful "Haunt of Last Nightfall (a ghost play in two acts)" (2010) and "Agency" (2013), a New York premiere, also in two acts, and in between, an illuminating onstage discussion.
"Haunt of Last Nightfall," for percussion quartet—Third Coast Percussion's Sean Connors, Robert Dillon, Peter Martin, and David Skidmore—and electronic accompaniment, including voice, vividly, grimly and wildly, depicts the 1981 massacre of 900 civilians by a relentless, United States-supported militia in El Mozote, El Salvador. There are forceful pages, limning the vicious assault, and eerily peaceful ones, suggesting, as in Giuseppe Verdi's "Don Carlo," the 'horrendous peace of the grave;' passages that sneak around, others that dramatize heavy artillery and blaring sirens; the martial strains beside the death march. Almost celestial, prayerful, and mournful music is juxtaposed with the fierce fortissimo final explosion.
Played by the American Contemporary Music Ensemble's (ACME) violinists Laura Lutzke and Ben Russell, violist Isabel Hagen, and cellist Clarice Jensen, with electronic accompaniment, including voice, "Agency," is the more contemplative, stately, and tearful work, contrasting the spirituality of Uhuru AKA Ayers Rock, in the Australian Outback, with Auscannzukus, an insidious international spy network, five miles away, made up of Australians, Canadians, New Zealanders, and representatives of the United Kingdom and United States, a relentlessly snorting beast, chugging along, doing its dark work. The percussionists joined the strings for the final upheaval.
Between works, Little was interviewed by percussionist Skidmore. "You could look at them as studies for operas," the composer said of the two compositions, explaining their relationship to his operas. He characterized "Haunt of the Last Nightfall" as concerning the "desire to know" and "Agency," about the "unknowable," or as Skidmore paraphrased it, "what we know" versus "what we can never know." Little said that his political works ask questions, while traditional propagandistic ones seek to give answers. Other topics of discussion were whether or not these were indeed chamber works—yes, was the conclusion—and the click track, or metronome, that the players hear, which helps them coordinate the instrumental parts with the recorded tapes.
Little is currently working on a monodrama for tenor voice.