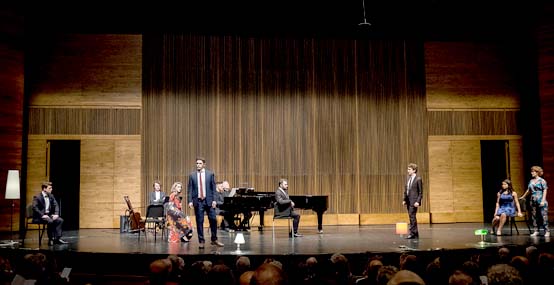 photo by Cherylynn Tsushima


(left to right) Jack Kay, Jack Gulielmetti, Anneliese Klenetsky, Gregory Feldmann, Nikolay Verevkin, Steven Blier, William Socolof, Chance Jonas-O'Toole, Jaylyn Simmons & Shakèd Bar

.......................................................................................................................................................................................
The New York Festival of Song's (NYFOS) extremely political program at the Juilliard School on January 17, "Weill's Berlin," featuring works of Kurt Weill and his contemporaries, mostly written shortly before World War Two, clearly demonstrated the relevance of these sentiments, products of a most turbulent time in Germany, to another troubled time and place: our own.
NYFOS' matchless Artistic Director Steven Blier was at the piano, guiding, along with stage director Mary Birnbaum, a septet of superb young singers—sopranos Anneliese Klenetsky and Jaylyn Simmons, mezzo-soprano Shakèd Bar, tenor Chance Jonas-O'Toole, baritones Gregory Feldmann and Jack Kay, and bass-baritone William Socolof—with banjo and guitar player Jack Gulielmetti and pianist Nikolay Verevkin assisting. Songs were sung in German or English or both and Marianne Barrett was responsible for German language preparation.
In a stirring "Berlin im Licht," with words and music by Weill, Jonas-O'Toole and Socolof, later joined by the rest of the company, limned the city at night, as seen in human-made light, bright as the sunlight, and then switched off the four assorted lamps that were part of the stage setting. In a bouncy "Wenn der alte Motor wieder tackt," by Frederick Hollander—composer of "Falling in Love Again" and many other numbers that Marlene Dietrich made her own—with Kurt Tucholsky, using an old car ("alte Motor") as a metaphor for corrupt government, controlled by white-collar criminals, 'swindlers and crooks' ("Schiebung"), Bar and Feldmann looked forward eagerly to a time when things would work again. Kay's sweetly sung "Augen in der Gross-stadt," by Olaf Bienert and Tucholsky, sounded like a nocturne, but actually depicted early morning in the city. In a lively "Tritt mir bloss nicht auf die Schuh" (don't step on my shoes), by Hollander, Klenetsky sassily told off all of her suitors.
In Tucholsky's "Sleepless Lady," translated by Louis Golden, Bar offered the waltz of an insomniac, whose mate—characterized as "the old gorilla"—slumbers soundly beside her. In Rudolf Nelson and Hollander's romantic and rueful "Peter, Peter," in Jeremy Lawrence's translation, Socolof quietly regretted sending away the loving man in his life. The women commiserated, in Beinert and Tucholsky's waltz "That," to Mark Campbell's English text, about the seemingly sensitive men that they've met, who, "a rat" and "an ape" among them, turn out to want just one thing, after all. Simmons and Kay danced to a gently cheerful "Oh just suppose," by Hollander, with English words by Lawrence, until Klenetsky joined them, making it clear that she and Simmon were rivals for Kay. They then found that being partners was so much better than fighting over Kay, who himself took comfort in another guy, Verevkin!
The company considered power and ruthlessness in Weill's last work written before he left Germany, "Der Silbersee" (1933), to Georg Kaiser's lyrics, two of them sung in David Drew's English adaptations. In songs dating from a short-lived optimistic time there, we heard Bar and Simmons collaborate on "The Shopgirls' Duet," lilting, but realistic, in a world going crazy and growing increasingly ugly; Jonas-O'Toole, strolling in our midst and dispensing financial advice, in "The Lottery Agent's Tango;" and Feldmann, backed by the others, describing "Caesar's Death," in Lys Symonette's adaptation of this louche and gritty march, for which Verevkin joined Blier at the keyboard.
Weill and Brecht's "Happy End" (1929), with some songs in Michael Feingold's translation, was up next, with Feldmann, Socolof, and Bar waxing sentimental for an old exotic and earthy honkytonk, now gentrified, in the "Bilbao Song," to strains of a melody, half remembered, that they used to sing; Kay, possibly facing doom, but cherishing the rough, rude reality and dreamy vision alike, and making sharp observations about cowardly hypocrites along the way, in the "Sailor's Tango;" and Jonas-O'Toole and Socolof, in "Der Song von Mandelay," recalling a legendary lamented bordello, where they tried to rush a guy, who was taking his time, while the others were waiting.
In Bienert and Tucholsky's "Song of Indifference," in Golden's English-language adaptation, Simmons, as a sex worker, sang frankly of her profession, her diverse customers ("some want me to beat them/And others come to whip"), the martial atmosphere prevailing outside, and her indifference to it all. Socolof assessed "money/As an aphrodisiac," in an at once gleeful and dark "There's Nothing Quite Like Money," by Hanns Eisler and Brecht, with English words by Eric Bentley.
Klenetsky began a particularly strong final group, billed as "the Gathering Storm," with "Nanna's Lied," written by Weill, in America, to a Brecht text, more sentiments of a sex worker, nearing the end of her professional life, voiced in song flowing as sensitively as a Schubert Lied. Jonas-O'Toole followed it with a dulcet rendition of Bienert and Tucholsky's "Parc Monceau," the expression of a German expatriate journalist in France, relieved to be taking time away from his tumultuous homeland. Bar added a haunting "Wie lange noch?," written by Weill, in America in 1944, to Walter Mehring's words, for broadcast in Germany, the torch song of a woman—or a land—led astray by a lover—or a Führer ("liess ich mich führen," I let myself follow)—and anticipating a breakup long overdue. Feldmann's contribution was Eisler and Tucholsky's anti-war song "Der Graben," meaning both trenches and graves, and containing the striking image of the Allied and German dead lying together on the battlefield. The company's hard-hitting finale was "Denn wie man sich bettet, so liegt man" (as you make your bed, you must lie there), from Weill and Brecht's "Aufstieg und Fall der Stadt Mahagonny," with English verses by George Tabori and Blier, followed by a healing encore, Eisler and Brecht's "Peace Song," a heartfelt wish for a more harmonious time.