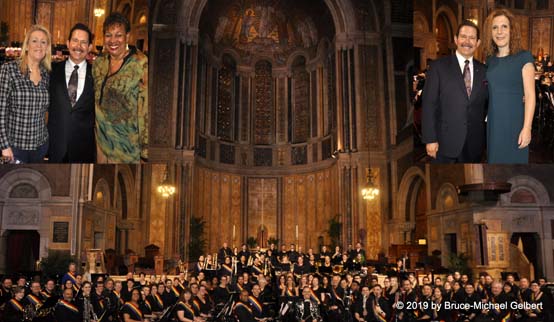 photos by Bruce-Michael Gelbert

LGBAC
insets: (left) Judith Kasen-Windsor, James Adler & Rainbow D,
(right) composers James Adler & Calenna Garbä

.......................................................................................................................................................................................
One hundred and twenty-three musicians of the Lesbian & Gay Big Apple Corps (LGBAC), our community's band, celebrated the Corps' 40th birthday with a sold-out gala concert in a magnificent space with awesome acoustics, St. Bartholomew's Church, familiarly known as St. Bart's, on Park Avenue at 51st Street. Guided mostly by Music Director Henco Espag, and hosted by Kyle Post ("Kinky Boots"), "Playing Out! 40 Years of Love and Joy" focused on music and words by LGBT musicians and featured three impressive premieres, as well as a number of beloved familiar works. Interspersed among the musical selections were reminiscences by veterans of LGBAC's earliest years and introductions of founders Nancy Corporon and Bob Wolff and other alumni.
Argentinean composer Calenna Garbä's "Fuga de Amor," in Nick Johnson's new arrangement for symphonic band, limns a heroic escape, and is restlessly driven and marked by fury. Our South African-born Maestro wrote his rousing, repeatedly crescendoing new "To Be Determined" for LGBAC's, as Post styled them, "14 amazing percussionists." Local composer James Adler penned, especially for this concert, "Fanfare XL," using the Roman numerals for 40 in the title, and notes corresponding to most of the Corps' initials, with an unusual solution for the L: cue that battery of percussion again. Adler's piece has a celebratory sound, as replete with anticipation as a classic overture, and made for an apt curtain-raiser, in this case for the second half of the concert.
The evening began with composer Samuel August Ward and lesbian poet Katherine Lee Bates' "America the Beautiful," arranged for band by Carmen Dragon, with LGBAC's sound sumptuous as it resonated throughout the hall. A rollicking "Hoedown," from Aaron Copland's ballet "Rodeo," in Mark Rogers' transcription, followed. In honor of the recent centennial of Leonard Bernstein's birth, the band played selections from the "West Side Story" Symphonic Dances, adding the requisite finger snaps and exclamations of "Mambo" to the music, propulsive and stirring, moving—"Somewhere"—and then spirited again—the "Dance at the Gym."
We heard black gay ancestor Billy Strayhorn's "Take the 'A' Train," hot and uplifting, as arranged for LGBAC's jazz ensemble by Robert Foster. Assistant Conductor Royden Ringer took the podium for cinema's Rosano Galante's "Resplendent Glory," evoking natural, national landscapes—and perhaps more—splendid and majestic. LGBAC trumpeter Russ Ebersole guest conducted "Thunderer" in a bravura account of John Phillip Sousa's march.
Espag returned for a sweeping yet contemplative third movement Andante and Tranquillo from Samuel Barber's First Symphony, as arranged by Richard Saucedo, which the composer dedicated to partner and colleague Gian Carlo Menotti, and which was played here in memory of LGBAC members and loved ones lost. The finale was "Mouse and the Lion," the first movement of Julie Giroux's Symphony of Fables. A piece that roars, it depicts the mouse repaying the lion's mercy with an equally life-saving kindness. The encore, led by Post and Espag, was a whole-hearted sing-along of Harold Arlen and E.Y. "Yip" Harburg's "Over the Rainbow," from "The Wizard of Oz," in remembrance of Marriage Equality Icon Edie Windsor.
Save Saturday December 7 for LGBAC's holiday concert.