Beyond Technique: 'Masters of the Spiritual,' A Gala Concert at Lincoln Center
by Tadeusz von Moltke |
follow us...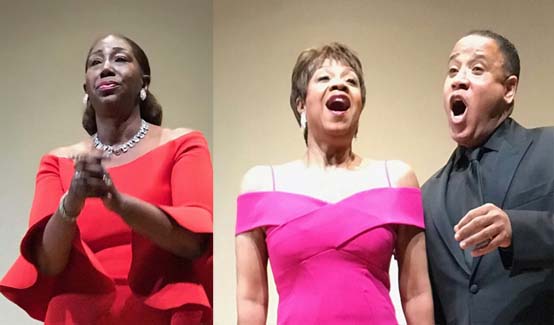 photo by Andrzej Stec

Hope Briggs, Cynthia Clarey & Robert Sims

.......................................................................................................................................................................................
"The Spiritual is the Black heartbeat"—Leontyne Price.
On June 2, the Bruno Walter Auditorium, at Lincoln Center's Library of the Performing Arts, was home to "Masters of the Spiritual," a gala awards concert presented by Canti Classics and the Living Heritage Foundation, in association with Opera Noire. An intimate gathering of mighty forces, much more than simply a musical concert, "Masters of the Spiritual" was a testimony in music to the indomitable will that navigated an impossibly tragic, unforgettable past, and a vivid demonstration of musical lineage and poetic tradition, dynamic and powerfully alive today.
Award-winning singers from the great opera houses and concert stages of the world, distinguished composers, esteemed academics, influential administrators, benevolent elders, and energetic youth filled both stage and theatre: a group portrait of aristocratic African-American artistic accomplishment and social conscience.
The program was introduced by the incomparable George Shirley, history-making leading tenor at the Metropolitan Opera and recent recipient of the National Medal of Arts, speaking with characteristic eloquence, encouraging the audience to open our "hearts and souls" to the program that was to follow. His were indeed words of wisdom: the meticulously-curated event touched all present to the quick, alternately exhorting us to leap up in joyous enthusiasm and sit back in silent contemplation.
"Masters of the Spiritual" was an afternoon of extreme emotion and transcendental music-making: an unbroken arc from triumphant joy to profound grief and back again, linked by hope, faith, courage, and determination.
"Spirit in is all of us"—Simon Estes
The Art of the Theatre is founded on the universal principle of communication through power in reserve, and "Masters of the Spiritual" opened with a letter-perfect example. In a coup de theatre, Robert Sims began the first song a cappella, his gleaming baritone in check for the beginning of "I'm A Soldier, Let Me Ride," creating a vibrant hush of attentiveness that set the perfect tone for immersion in the afternoon's cosmic themes. The company of singers that followed could hardly be bettered today.
Alison Buchanan, Phillip Harris, Shawnette Sulker, Kenneth Thomson, and Louise Toppin brought voice, style, firm commitment, and virtuoso flair to their material, with Shirley himself making a cameo appearance in the concert's finale.
In "The Angels Done Bowed Down," Lucia Bradford opened a world of feeling with the amethyst glow of her luxurious mezzo-soprano sound and profound connection to text. Regal Marquita Lister held us enthralled, her mastery of the stage everywhere evident, breaking the tremulous silence with a peerless rendition of "Steal Away." A heart-stopping and beautiful "Guide My Feet" brought us the luminous voice and noble presence of soprano Hope Briggs.
Soprano Cynthia Clarey remains one of our most expressive and versatile artists, mining the rich lower range of her exceptional instrument in charming duet with Sims, "Plenty Good Room." The robust brilliance and engaging character of Kenneth Overton's mahogany-hued baritone were given full play in "Trying to Get Home." Tenor Chauncey Packer created a riveting dramatic episode in "Freedom," crowning his performance with a stream of radiant high notes, as effortless as they were expressive.
The trio of splendid pianists, who provided discreet and stylish accompaniment, were Paul Hamilton, Joshua Joubert, and Byron Burford-Pearce.
"If you're looking for some kind of transfiguration, you need more than beautiful sound: you've got to have the word"—Shirley Verrett
There have been numerous, mostly circular, discussions as to the "proper" way to perform the Spiritual. This concert was not in any sense an archaeological expedition, nor was it merely a showcase for virtuosic vocal technique. It was instead an eye to eye encounter with The Spiritual as Living Art.
Through the superb musical arrangements of Lena McLin, Roland Carter, and Jacqueline B. Hairston; the very special combination of skill and sensitivity which each singer and musician brought to the program; and the eloquence of the videos enhancing the significance of the onstage concert, the Spiritual was revealed to be a continually evolving art form, as deeply rooted in the present as it is in the past.
Beautifully produced voices, musicality, and linguistic flair, however, would all have gone for naught—especially in this repertoire—had each singer not been fully present in the words themselves–inhabiting the very moment, speaking clearly with incandescent meaning. In this most decisive aspect, each artist brought forth their own individual cornucopia of riches.
"Masters of the Spiritual" was a transfigurative musical experience, an opening of the heart and soul, far beyond technique, and was much too enticing to have disappeared after this single performance.




Advertisements
New York Q News
Fire Island Realtors
The Best Of Fire Island
Gay E-zine with everything hip and happening in New York City. News and events all around the city.
www.newyorkqnews.com
..........................................................
The best summer rentals properties and homes for sale in all of Fire Island, The Pines and the Grove.
www.fireislandrealtors.com
..........................................................
Fire Island Pines, Cherry Grove, Ocean Beach, Water Island & all of Fire Island Residentials Sales and Summer Rentals.
www.thebestoffireisland.com
..........................................................
Shopping Online?
Real Estate Blog
CJ Mingolelli
Gives Us a Try. Online Mega Mall. Your community online shopping mall/Apparel, Books, Movies, Cars, Homes and much, much more ...
www.qnewsmegamall.com
..........................................................
www.fireislandrealtors.com/
Real Estate News, tips and comments about New York City and Fire Island Real Estate.
Visit Our BLOG >>
..........................................................
Fire Island Pines & Cherry Grove Homes For Sale & Summer Rentals: Season, Month & Weekly.
www.cjmingolelli.com
..........................................................
FEATURED HOME FOR SALE
MORE FIRE ISLAND HOMES FOR SALE & RENT AT:
The Best of Fire Island.com >>
- - - - - - - - - - - - - - - - - - - - - - - - - - - - - - - - - - - - - - - - - - - - - - - - - - - - - - - - - - - -