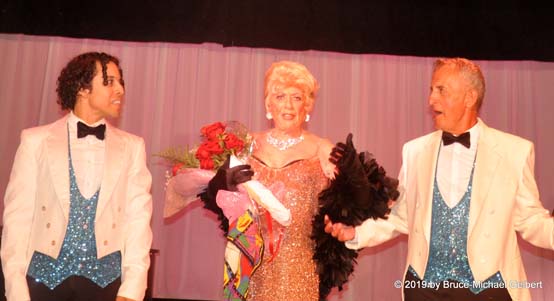 photo by Bruce-Michael Gelbert

Rose Levine (center) with Chris Bell (left) & Dale Lally (right)

.......................................................................................................................................................................................
Iconic Cherry Grove singer Rose (Bob) Levine gave her all in "Rose Levine Sings Broadway Melodies," at the Community House on July 6, sharing bits of autobiography along with favorite songs. Mark York was her supportive director and musical director, singers and dancers Chris Bell and Dale Lally were her supporting cast, Matt Baney and Alison Brackman were responsible for tech, and Martha Pitkin, Ellen Biggers, David Medina, and Maria Elena Passaretti made up the stage crew.
We began with Bob Levine's Bar Mitzvah, his recitation of the blessings segueing into "Broadway Baby," the tallit replaced with a feather boa, and the singing continuing with "I Enjoy Being a Girl." Cut to Rose's Fire Island stage debut, when, cast as a chorus girl, she made a wig out of yarn from Woolworth's and a dress out of a bed sheet, commented "(Look at me, I'm) Gorgeous" and, giving Bob's view of Rose, "If You Could See Her through My Eyes," before settling in at her makeup table to put "A Little More Mascara" on. Then Chris and Dale coaxed her on stage again for "her first solo in Cherry Grove," Eva Tanguay's "I Don't Care," timid at first, but soon brimming with confidence.
Chris' energetic song-and-dance heralded the diva with "Clap Hands! Here Comes Rosie!" and she reentered to sing her signature song, "Rose of Cherry Grove Fame," her version of "Rose of Washington Square." As she started writing for Fire Island News, she urged "Read Rose Levine" to the tune of "Miss Marmelstein," from Barbra Streisand's Broadway debut vehicle, "I Can Get It for You Wholesale" and, after some soul searching, found that she was essentially "A Lady with a Song."
Rose gave her first solo show in 1971, as a benefit for the Grove Doctor's Fund. Indestructible, she marveled, "I'm Still Going at My Age." Mark, Chris, and Dale saluted her with a number that Mark wrote—"Rosie, You Bring Sunshine Every Day"—and she reentered and sang a touching "Someone to Watch over Me." A winning Ethel Merman tribute featured "Gee, But It's Good to Be Here," "I Got the Sun in the Mornin' (and the Moon at Night)," "Down in the Depths on the 90th Floor," "They Say It's Wonderful," and with Chris, "Simple Melody" and "It's De Lovely." Rose capped this tour-de-force, and the first act, with "Some People."
Rose started the second act dynamically with a pairing of "Nothing Can Stop Me Now" and "I'm Shooting High," followed by "Almost Like Being in Love" and, from atop the piano lid and swathed in a white boa, "How Lucky Can You Get." Mark, Chris, and Dale changed "Lullaby of Broadway" to "Rose Levine on Broadway" and Rose returned as Ethel Merman as Annie Oakley, belting out "There's No Business like Show Business." As many on-stage costume changes ensued, Rose and Chris swore that they were "Bosom Buddies;" with Dale, invited "Shall We Dance;" and then Rose declared herself "The Hostess with the Mostess" and morphed into Norma Desmond for "As if We Never Said Goodbye." When the bright red dress and feathered headdress appeared, we all joined Mark, Chris, and Dale in hailing Rose with "Hello, Dolly."
Chris and Dale, extravagantly costumed, became Cagelles, singing "We Are What We Are" to introduce Rose's proud "I Am What I Am." The "Cage aux Folles" highlights continued with Chris' romantic "With You on My Arm" and he and Dale harmonizing with Rose in a lyrical "Song on the Sand."
Rose's "Let Me Sing and I'm Happy" was sweet simplicity itself and, in closing, she asserted, "I Gotta Be Me"—and we wouldn't have it any other way.