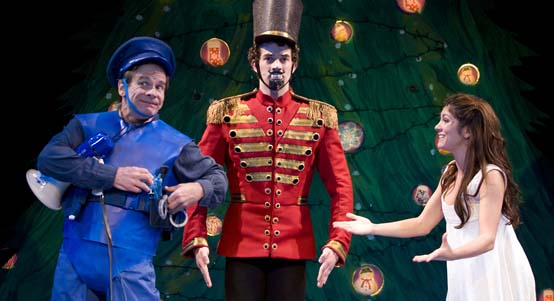 photo by George Street Playhouse

scene from "Nutcracker and I"

.......................................................................................................................................................................................
George Street Playhouse kicked off the press opening of "Nutcracker and I" on the most spirited evening New Brunswick has yet seen this Holiday season. Outside, mere moments before patrons began arriving at the theatre, the beautifully appointed Christmas tree in the immediately adjacent Monument Square Park was lit. And this was just the beginning of an evening that featured the brand new musical, direct from some of the most twisted minds in the Northeast. Yes! David Saint, GSP's brilliant artistic director, as well as director of this production, and two of his hometown chums from Needham, Massachusetts, Gerard Alessandrini and Peter Brash, are the masterful minds behind this piece of tinsel-lit package of arch lyrics and delicious sight gags that will resonate for the people who know New York or, in this case, Snow Globe City—more on this in a moment. The music is by that arch Master himself, Peter Ilyich Tchaikovsky. If Alessandrini and Brash sound familiar, think "Forbidden Broadway," for one, and "King of the Forbidden," for the other. Alessandrini writes the blistering lyrics that lambaste the high and low alike on the Great White Way, while Brash has made a name for himself writing for television series from "Ryan's Hope" to "Guiding Light." Drama is their legacy! If Tchaikovsky sounds familiar, he should–he IS "The Nutcracker," and composer of so many songs we love to whistle.
When our curtain opens, Professor Hoffman's (Peter Scolari) production of "The Nutcracker" has been waiting for his winsome senior, Celeste (Haley Carlucci), to grow into the role. This has been her dream role, she's Hoffman's favorite student, and he and she are thrilled. Until the unthinkable happens, when Eliot's (A. J. Shively) set topples, breaking her leg. No "Nutcracker," no Holiday! But when Hoffman visits the convalescing Celeste, her brother Peter (Aidan Benavides) and her parents (Annie Golden and Edward Staudenmayer) are surprised with his life-sized gifts–including a Nutcracker who is tall, handsome and well-favored (Shively again). Celeste is in love and when the meds, from Dad, and the herbal supplements, from Mom, collide she's feeling no pain. The resulting fever dream with Celeste and the Nutcracker touring Snow Globe City, and ultimately dancing that dream pas de deux, is a spun sugar fantasy, with a dash of something different. The only thing missing from her awakening is a riff on "The Wizard of Oz" … I expected to hear "and YOU were in my dream, and YOU…".
This cast, including Nick Dalton as the ragingly self-convinced Olympic Wannabe, Zack Whitefield as well as the Mouse King, plays multiple roles. Directions of plot and characters change with lightning-like speed and precision. Zack in his Mouse King disguise wears a form-fitting pair of pants that looks like part of a matador's suit of lights, with a military-type jacket–the mixed metaphor reminiscent of dreams, while in his primary persona, he's that self-absorbed combination of "enough about me, what do YOU think about ME?" that seems to characterize some of the Gen What-evs. Carlucci's Celeste, while nominally playing herself throughout, actually plays her multiple facets. Golden is not only a part of Zack's slacker posse, she's the Sugar Rush fairy, with some cones you've got to see to believe, and her Chinese chef will leave you wanting more. Staudenmayer's characters include slacker posse, as well as Tchaikovsky and a Russian waiter, but for our money, it was his bodega-owner role that had us rolling. It is Peter Scolari, whose turns as the Toy Policemen, Hindu Cabbie, Firebird Waiter and George Balanchine, among others, shows that so much of a show's success has to do with how the director and the actors take a script, and add that final set of ingredients that brings the authors' two dimensional work into a four dimensional realm. His facial expressions and physical comedy touches are illuminating and imaginative. And his Toy Policeman is a star turn on its own.
James Youmans' set design is masterful. The opening segue from the school theatre to the ER where Celeste's leg is placed in a walking cast, to her home–all are quick bits of fun. When the Nutcracker and Celeste end up INSIDE the Snow Globe, at the end of Act I, that's as neat a bit of stagecraft as you'll see. The imaginative centerpiece set of Snow Globe City is also a sight to behold–from Midtown to, ultimately, Lincoln Center, it is thrillingly detailed. The concentric framing of the stage consists of fabric panels upon which some delightful images are projected–keep flicking an eye over there frequently for a number of surprises! David Murin's costumes are also nearly as much fun as the cast members themselves … transformations abound, and isn't that what we want from our holidays?
The lyrics are quick and witty, many are patter songs. Listen closely, and you may still be a few beats down the road when you realize the cleverness of what you've just heard. The rapier wit that permeates this show makes some equally topical jokes. This show is very New York-centric, so some of the jokes may not work elsewhere, and the references to some things that "might make Mitt Romney blush" may one day require a footnote. This is fun, fluffy and, for certain, NOT your grandparents' "Nutcracker!" Take a break from the hustle and bustle of YOUR Christmas time in the City and enjoy a bit of something sweet. Tickets to a show make a GREAT holiday present for your loved ones and there is no present like the experience of live theatre.
"Nutcracker and I" plays through December 31, at George Street Playhouse. This is a brand new musical comedy that, like your favorite holiday classics, work on one level for kids and a completely different level for adults. Tickets are available online at www.georgestreetplayhouse.org or call the box office at 732/246.7717. I will see you there!